What is a Bralette?
A Bralette is typically a non-wired bra and is designed for comfort. It is usually non-cup specific, non-molded and comes in easy sizing; XS-XXL.
There are many different types of bralettes, which have been designed mostly for the small bust. This is generally because the design of this type of bra is less supportive and is made for style and comfort rather than shape & support.
A traditional bralette is made from an all over stretch lace or a jersey type knit. They generally do not have hooks and eyes for back adjustment and are pulled over the head. Its racer back design is a common feature with some straps having adjustments. The overall design is very simple and requires very few parts for cutting and sewing.
Bralettes have become very popular in recent years. Women young and old are wearing them as a fashion accessory. The bralette is worn with the purpose of style, where it can be seen from under outerwear or can be worn as a comfort bra for at home or weekend wear.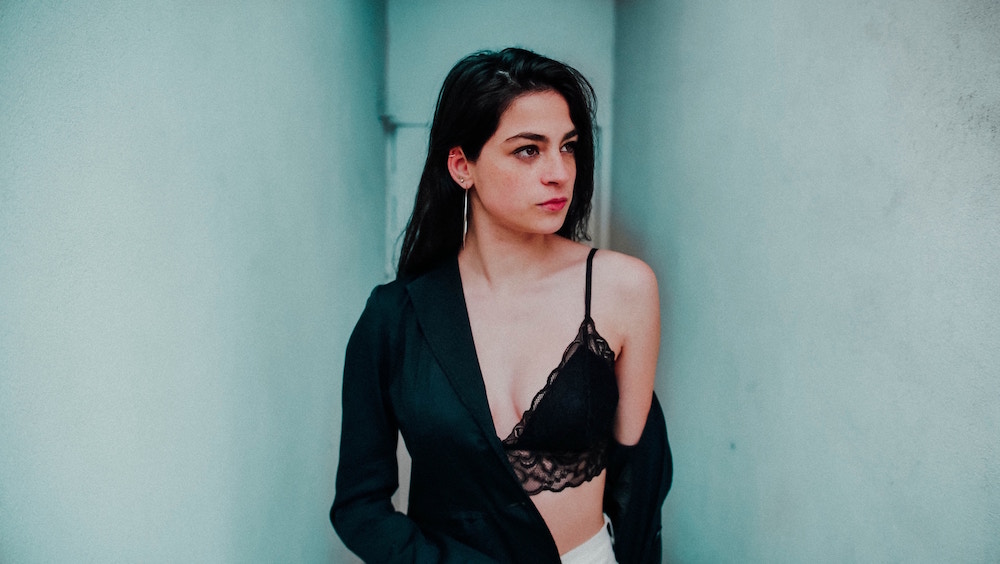 How much support does a bralette provide?
Good question. This is generally dependent on the design of the bra, the fabrications/trims used, the coverage it provides and the cost of the garment.
You might also like: Best Fabrics to Wear in Summer & Hot Weather

Most bralette will provide minimal support and are designed for A-C cup women, who require less support. The cost is generally affordable and it's only when high end designer brands or expensive French laces are used that the bra becomes more expensive.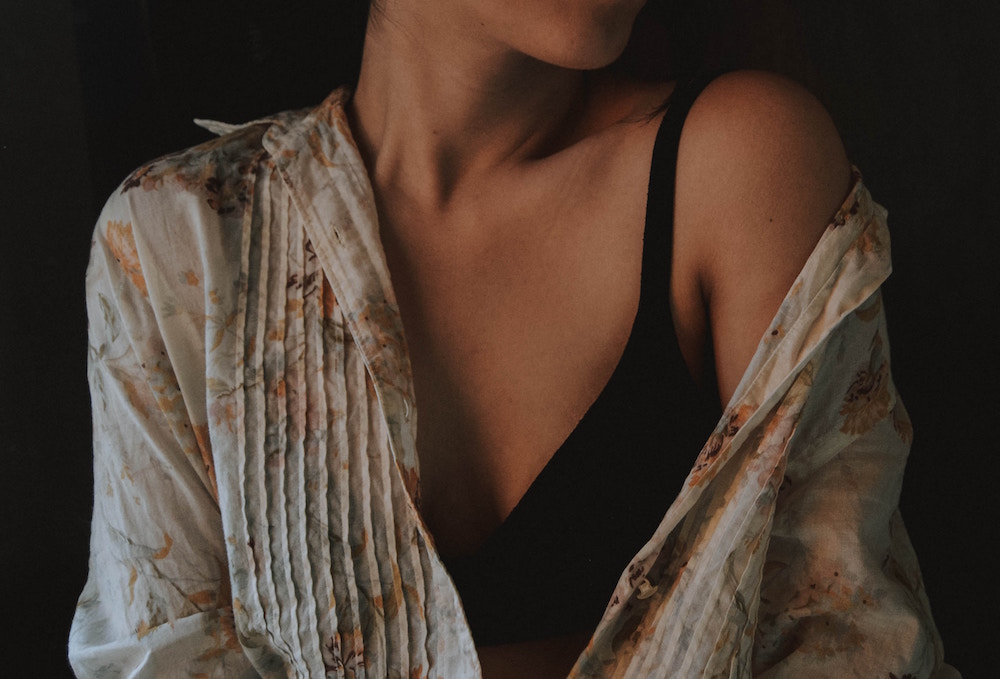 Does this mean that Bralettes are not for women with a fuller bust?
Generally speaking yes, most Bralette available in a fuller bust size are not ideal. This is due to their lack of support and unflattering shape that occurs due to its non-wired design and flimsy accessories and elastic trims.

You might also like: Features & Benefits of a Comfortable Bra
The good news is that the Sugar Candy bra is changing all of this. Fuller busted women now have a fantastic Bralette for lounging, sleeping or wearing during the day, thanks to its unique design, soft fabrications and sturdy construction.

Why is the Sugar Candy bra so good?
The Sugar Candy bra is made from a soft luxurious knit called Nilit Softex. Nilit Softex is used in a wide range of garments, from opaque hosiery to active outerwear. Nilit Softex gives fabrics an extra soft feel helping to make the garment feel like a second –skin.

Nilit Softex was the perfect choice for our Sugar Candy bras. Not only is the fabric super luxurious but it is supportive too.

The Sugar Candy Bralette has been designed with the fuller bust in mind. Styles start from an F cup and will accommodate up to a K cups (US) in XS-XXL band sizes.

The cups provide fuller coverage and have been molded for separation. You will not have the dreaded mono-boob on our watch!

The Bralette contains fully adjustable straps that are made from strong supportive elastic.

Unlike most Bralettes, the Sugar Candy bra has a traditional styled back band with multiple hooks and eyes for easy adjustment.
You might also like: What to Look for in a Fuller Bust Bra

The component that makes this bra very special is its unique patent pending, inner sling design. An internal sling follows the contour of your breasts from the side and holds the breast from underneath, giving it that much needed lift. This sling fits comfortably under and around the breast and is able to provide good levels of security without the use of an underwire. This makes it the perfect bra to chill out in.

Styles available include: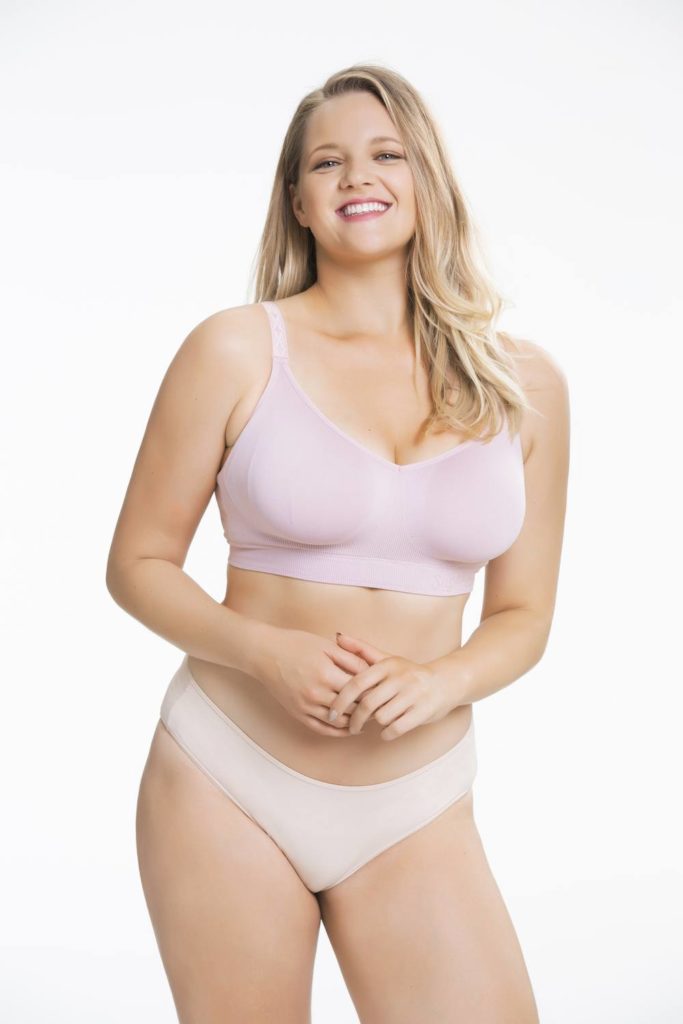 The original Sugar Candy bralette is available in nude, black and pink. Sizes include XS-XXL.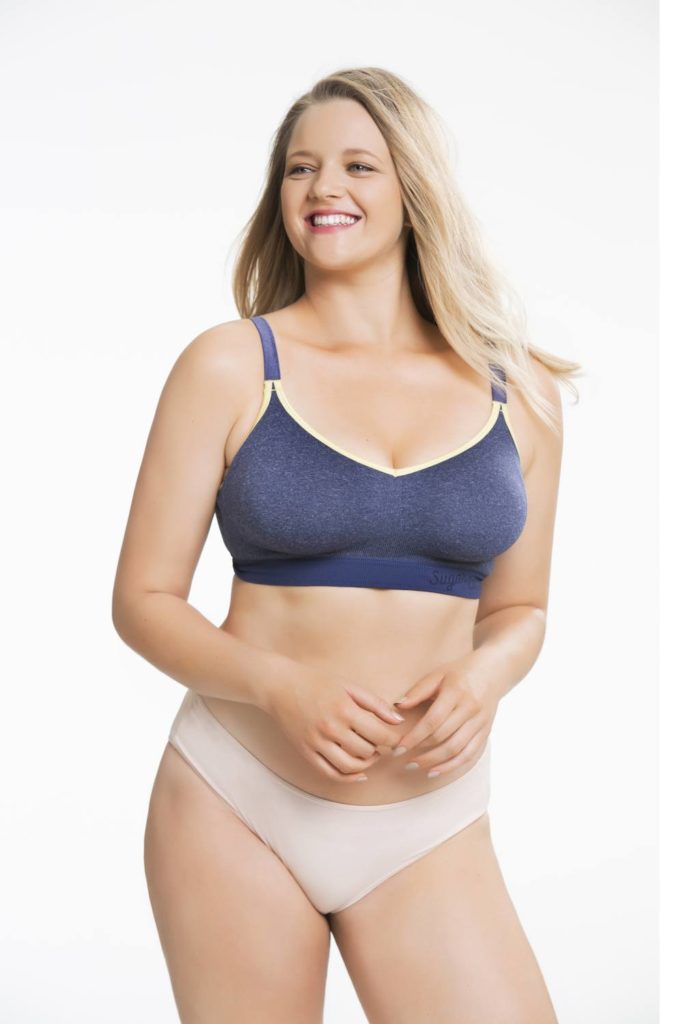 Crush fuller seamless lounge bra is available in two great colours denim and charcoal. The contrasting piped edging adds a sporty feel to the bralette. Sizes include XS-XXL.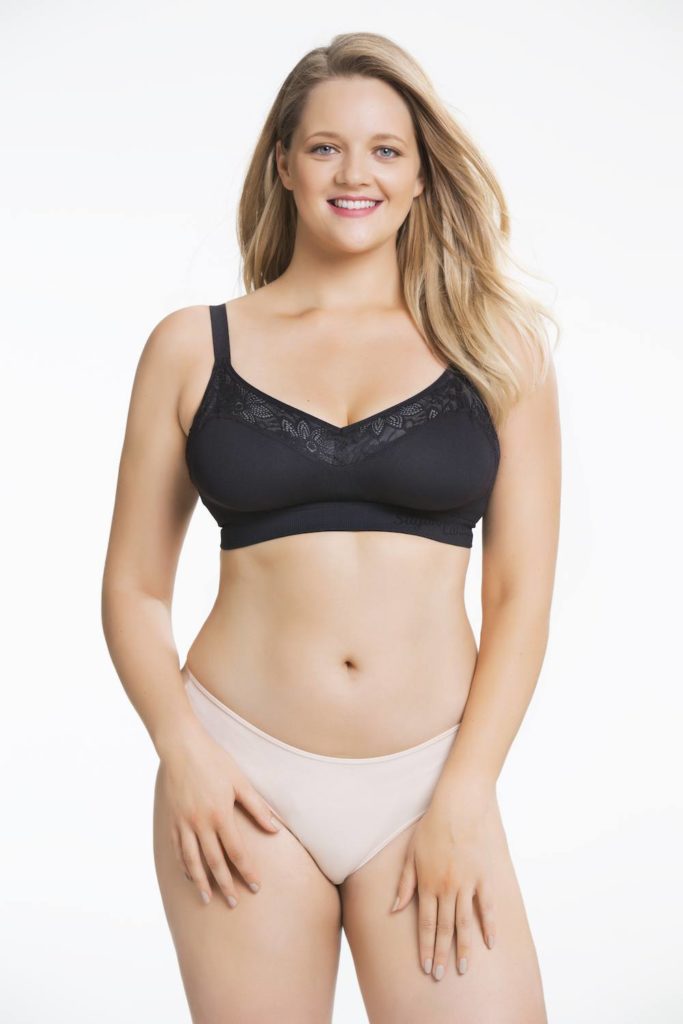 Lux fuller seamless lounge bra is available in 2 versatile colours, black and navy. Its lace decorative trim adds a touch of elegance and femininity to the bralette. Sizes include XS-XXL.
Sugar Candy Tank is ideal as an undergarment or for outerwear use. Available in charcoal the tank is figure flattering and super snug. Sizes include XS-XXL.

All the above styles are also available in a nursing option, because we have got you covered during every stage of your life.
Who is the Sugar Candy bra customer?
The Sugar Candy bralette has been designed for the fuller busted women F+ cups. Sugar Candy can be worn by young and old, age is no barrier and attitude no limit. Strong confident bodies are what the Sugar Candy brand stands for. Embrace your differences and wear with confidence knowing that you are fully supported and cherished.

How to care for my Sugar Candy Bralette
Always wash in cold water in a lingerie bag. Hang to drip dry in a shaded area away from direct sunlight.

Avoid exposure to heat. Hot water, dryers and direct sunlight will compromise the product. Heat could cause the fabrics to shrink and the accessories and elastics to deteriorate. The color may also be affected and lose its vibrancy. Failure to take care of your favorite bra could result in its inability to support you any longer. Take care of your favorite Bralette and it will take care of you.

Don't miss: Everything You Should Know About Seamless Bra
Like this post? Follow Sugar Candy on Facebook to get the latest updates!