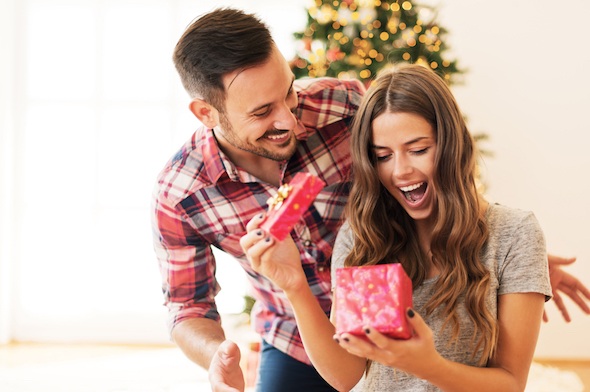 At Sugar Candy, we believe in nothing more than "positive energy", and with all the positive energy going round it has culminated in the season of love.
It's the season of love and giving, and what better way to show that you love than by giving out gifts to let her know that she is loved on all quarters by you. You haven't gotten a holiday gift for her yet? Don't worry, we've got you covered. We've gone through the endless lists and we are presenting to you our top list of gift ideas for her. Most of the items on this list will cost you nothing more than tokens, but it's quite worth it.
Here's our gift items for the season:
Sugar Candy Bra: The Sugar Candy Bra is one built for comfort and support. It's famous for providing an attractive and sexy shape without stressing the breast tissues, allowing them retain their fullness and shape. The Sugar Candy Bra is ultra-soft and is comfortable for wear.
The Famous Paris Perfume: The perfume created by director Nicolas Ghesquiere is one that will give her that versatile scent, because this Balenciaga product is endowed with the splash and variety of Virginia cedar, carnation and patchouli.
Bangle with a heart of gold: The bangle bracelet can be worn alone, mixed or even interworn with other accessories. Inscribed with any word of your choice for the one you love. Not only will it beautify the hands, it will also add to the glamour of the wearer.
A perfume to pamper: All women desires to be pampered. This gift will do just that, pamper her with the fragrance of affection. L'Occitane's signature scent was inspired by the fleeting beautiful moment right before the sun sets – the golden hour. Having the fragrance of honey, lavender and almond from the South of France to caress your skin, it will leave her scenting of your love all through.
Elegant and Stylish Dryer: A luxurious dryer that's stylish and elegant enough to give her hair that stylish and elegant look. Its a quiet, efficient hair dryer with the ultra-fast drying technology to give her quick optimum use.
Multiple Colored Nail Polish Set: A lady's fingers are everything to her. She cares about how they look, how they match, and how they look to others. This nail polish set will keep her fingernails changing for weeks as well as matching every shade of cloth that she rocks.
A Refreshing Hair Refresher: This gift item will leave her hair smelling nice and comfy. It refreshes the hair as well as give it that glow, regaining lost nutrients and adding new ones to give it that WOW look.
A Watch To Match: This timepiece features interchangeable straps that allows your lady match the watch with any of her outfits to have that complete look. Made by the Copenhagen based watch company, the watch is one to get for its camouflaging ability to take on any apparel in her wardrobe.
UGG's comfy Slipper: The UGG slipper is known to give her the comfort of the world on her feet. Outer lined with treated suede and treaded with rubber to give it that needed reinforcement, and finally furnished with the ever comfy trademark shearing wool, making it one of the comfiest slipper ever.
The Multipurpose Fitness Tracker: This fitness tracker is one for all seasons and all activities. It helps her track her heart beat, heart rate, kinetic energy activities and sleep. Not only does it monitor the heart, it also helps her access and pay variety of bills, as well as connect to the smartphone to receive alerts and notifications without needing to check the smartphone.
Unforgettable gift: Tile Pro is meant for the woman who has a lot of things on her mind and hands. This gift (literally) is unforgettable in the aspect the it reminds her if she's misplaced her keys or wallet by accessing it in her smartphone through the app. It also works for the misplaced smartphone too. Its one unforgettable gift to get her this season.
The Fashionable Winter Gloves: The special type of glove helps her operate the screen of the smartphone without her removing the gloves because of its grippy pointer finger for texting and its invisibility thumb features. Not only does it keep the cold out, it keeps her operating her phone without losing the comfort of the gloves.
Personalized Name Earrings: The personalized earrings is great as a gift. It could include her nickname, a wonderful phrase she likes, or her name. Letting her rock her name everywhere she goes.
Pampering Wool Jersey: This beautifully soft wool jersey is super soft on skins, is odour resistant from all the sweat and has natural elasticity. Pure wool to pamper her skin.
Sneaker that just says UGG: This gift is required to give her legs that lovely care as well as shelter her from the winter cold, although not different to the UGG boots in functionality, its stylish look is a plus.
Best Chocolate Basket: Alder Creek Ultimate Godiva Experience: Though its coming late on our list, its the most sweetest and candylicious there is. This ultimate Godiva experience will give her just that the ultimate experience of chocolaty taste.
If we missed any gift items that you believe should be on our list, you can put them down in the comment box and write why it should be on our list. Season's greetings from us to you.