When you're thinking of bras and what's inside them, your mind might jump straight to boosies. Here at SugarCandy*, however, there's a whole lot more inside our bras than just a couple of melons.
Our bralettes were quite literally years in the making, and we're pretty damn proud of them. So, without further ado, keep on reading to learn about the ins and outs of our bralettes, and why they're so special. This is about to get a little techy, but bear with us.
The Yarn
Our bralettes are seamlessly knitted using Nylon 6.6 Yarn, which is a micro version of Nylon 6 Yarn. It's much stronger and denser, with many more fibres that make up the structure. You know the old saying "it takes many hands to make a light work"? Well for us, "it takes many strands to make the bra work".
Nylon 6.6 is the same yarn that is used to make Ripstop Sails, Navy SEALs' Windcheaters and Spartan Race Gear. So if it's durable enough to do all that, it should be able to hold up the girls too!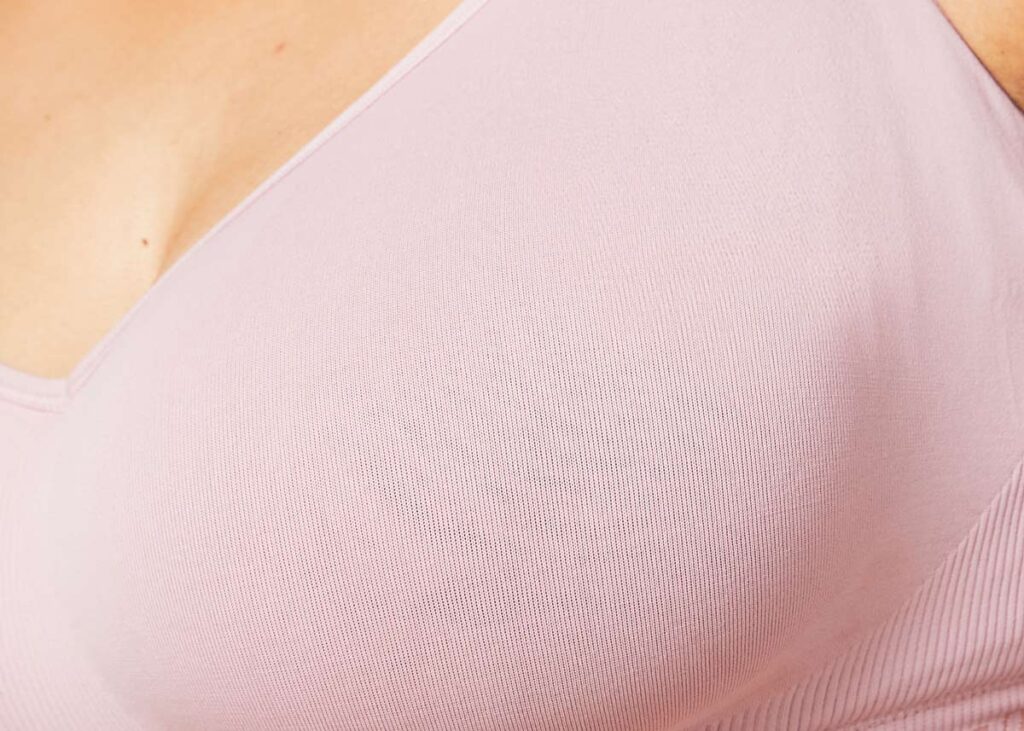 The Moulding
We're all guilty of turning up our hair straighteners to get the job done quickly, at the expense of our hair's health. The same thing happens when bras are moulded. Usually bra companies do it quickly and at very high temperatures. While this may be good for their bottom line, it can damage the bra's fibres and it uses a tonne of unnecessary energy (save the planet y'all).
We're a bit (or a lot) gentler on our bras in the early stages of their manufacturing, which means you can be rough with them later on and they'll go the whole nine yards. Perfect for long-term wear (hello slow fashion).
So while it takes us longer and it's a much more tedious process (we mould the layers of the bra separately, then align them during the sewing stage), it produces a much higher quality product. Only level 5 tradespeeps are ready and qualified for this stage of manufacturing.
The Elastics
Our elastics have a higher percentage of elastane than regular, run of the mill elastics (how many times can we say elastics in one sentence). What does this mean for the boobanis, though? Basically, our straps are better equipped to lift larger boobs, our bras are more difficult to stretch (which means more support and durability) and they have amazing stretch recovery, aka they snap back into shape as soon as you take out your ta-tas.
You know when your favourite undies begin to sag and start looking more like a nappy? That's due to the elastane fibres breaking. They're no longer able to snap back into shape and fit snug over your booty. Our bras last much much longer! You can even commit the cardinal sin of chucking them in the washing machine or dryer! Seriously, these elastics are TOUGH.
What's the downside of these miraculous elastics, you ask? They cost more. But support is something we're not willing to compromise on. Period.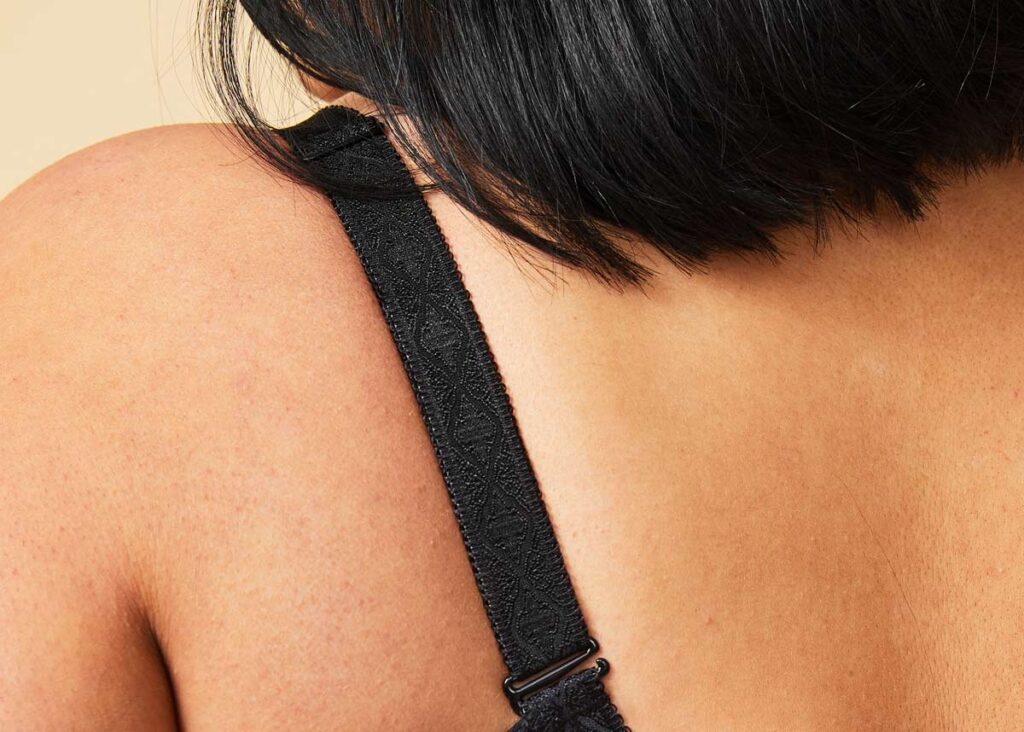 The Construction
Ordinary bras are generally made using a lay cutting process, meaning all the pattern pieces are assembled on a roll of fabric. Each shape is then cut, moulded, then cut again, resulting in an excess of waste.
That's where SugarCandy* comes in. Our bralettes are knitted to shape, then moulded, and then cut. And what do we do with those off cuts? We use them to make the inner workings of the bra, or course! That's right. The side slings and platform slings that hold the girls in place, would have been waste.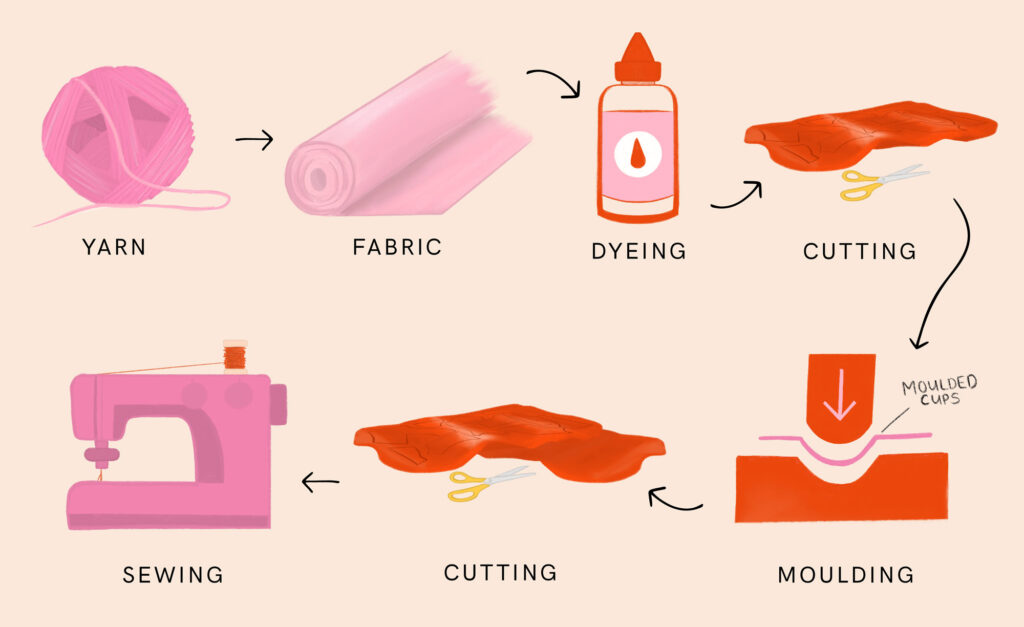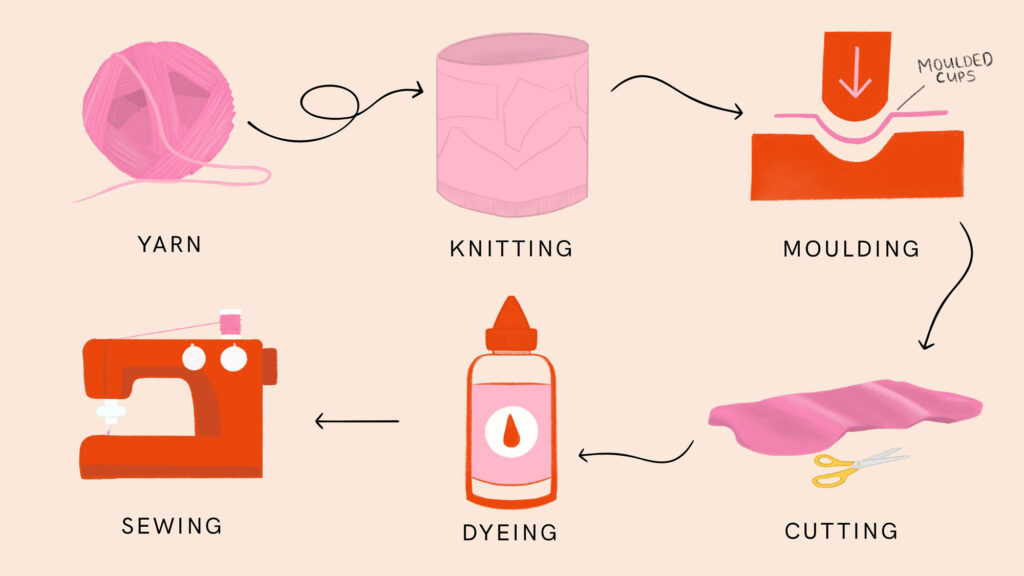 The Dyeing
Alright — now that we have our bras, let's add some colour! This step is also key to our eco-friendliness. We dye our products *after* they've been constructed. This means that the miniscule amount of waste we do produce, isn't unnecessarily dyed. Our dyeing process is also super gentle, and all our colours are Oeko-Tex Standard 100 compliant — meaning there isn't a single harmful chemical used in the process. This is better for you, and for the waterways.
The Accessories
No, we don't mean statement earrings or fancy handbags. We're talking hooks and eyes, sliders and J-hooks! All of the accessories we use are of corsetry quality, meaning they're much stronger than the usual metal that's used on bras!
The hooks & eyes are made with a super dense metal, because they've got an important job to do. You can jump, jiggle and jive to your heart's content with these puppies! Plus we've chucked a tonne of them on there so you have as much sizing flexibility as possible.
The sliders and J-hooks are also super sturdy to keep the straps just where you like 'em (no more adjusting throughout the day) and to support the weight of your boobs.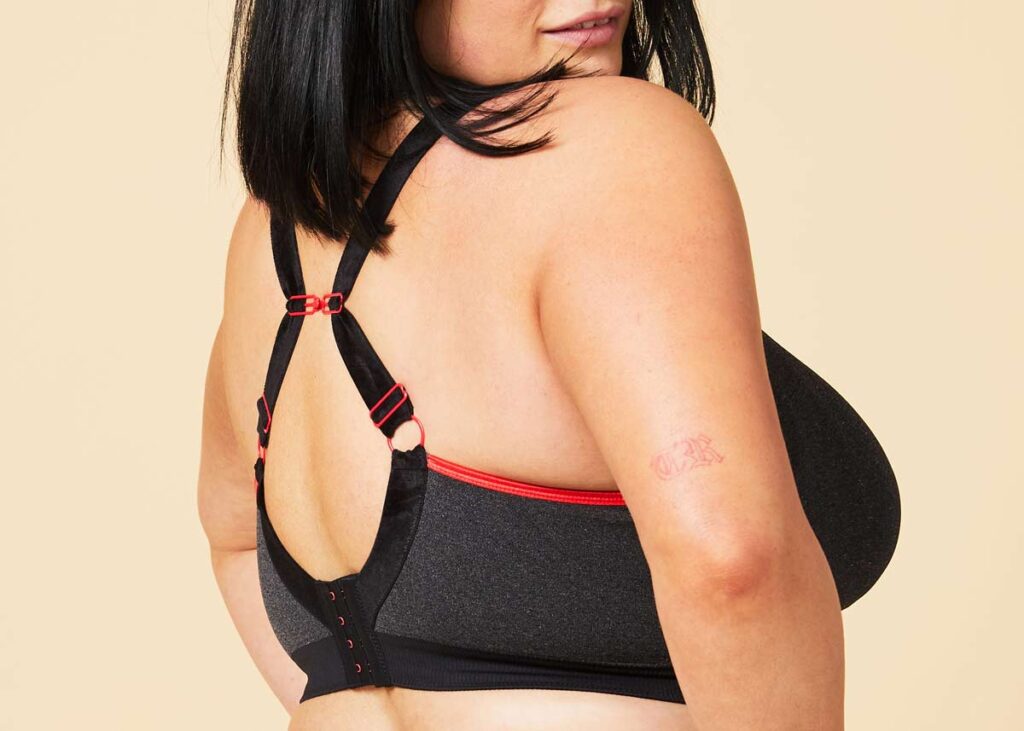 The More the Merrier (Sizes That Is)
If you've ever had a squiz at one of our size charts, you'll have noticed each size covers a *bunch* of cup and band combos. What does this mean for the ta-tas though? Basically, SugarCandy* is going to FIT. She'll be comfy on your Netflix iso days, she'll fit you when your boobs shrink during ovulation, and she'll even fit you when they explode just before your period comes.
The clever platform and side slings go together better than Mary-Kate and Ashley, and work to lift, separate, shape, and support your boobs (no easy task when you're of the bustier persuasion). The heavier the girls, the harder they work, and they love to work.
Inside the Inside
No, we're not trying to get all Inception on you. We're just talking about the reinforcements within the inside-y layers. Between the layers of the bra, there's a secret reinforcement layer that works the same way a wire would (without the discomfort of course). Between the layers of the slings there's also a powernet fabric, similar to what you'd find as a single layer in a sports bra. There's even a super strong elastic inserted into the channel of the underband, which works to keep it secure all day long.
So, there you have it. We could go on and on about the wonders of SugarCandy* and all the purposes it could serve that we don't advertise (strapping your surfboard to your car, under the door draft blocker, knee warmer, slingshot, bungee), but we don't want to bore you (or ruin our credibility).
Testing 1, 2, 3
One of our top priorities is creating products that are fit for long-term wear. That's why we undergo rigorous testing, to ensure our bralettes (and tanks!) genuinely do what we say they will on the packet.
You'd be forgiven for thinking our eco-friendly dyes don't last the distance (because then wouldn't everyone be using them?!), but we undertake three different colour fastness tests to ensure they stay just as gorgeous as the day you bought them. The first is your standard colour fastness when wet — it won't turn your laundry pink, or black, or any colour it's not meant to be. The other two are a little techy — colour fastness during dry crocking (FYI crocking refers to the rubbing off of colour when subjected to abrasion), and colour fastness during wet crocking. Basically, your bra won't stain your clothes or your skin when you're running around and sweating.
We also test our fabrics for pilling (no one likes little bobbly balls on their bras!), the strength and recovery of our elastics, the strength of our yarn, the integrity of our fabric after moulding, as well as the strength of our accessories. We do this by pull testing 18kg to ensure the hooks and eyes, clips and sliders can hold a heavy (or even lactating) bust!
Finally, we have regular factory audits to ensure sound social and ecological working conditions, as well as full quality control testing from an external company on each and every batch of production. Do we *have* to do all this testing? Not all of it, no! Would we save money if we didn't? Hell yes! But we want our products to stand the test of time.
All you need to know is that the manufacturing of this bralette is a long and expensive process (with good reason), and there's a lot that goes on behind the scenes that you don't actually see. But unlike a magician that never shares his secrets, we at SugarCandy* want to share this magic with you.