What is a seamless bra?
Seamless bras are typically designed to provide the wearer with a smooth profile from underneath clothing.
The garment is constructed on a machine that is programmed to knit the garment in one piece.
Specific measurements are entered into the machine to control size, density and strength of the garment.
Every brand has their own measurements, specialty yarns that they use which determine the quality, comfort and strength of the garment.
Once the knitted garment comes off the machine, the cups are then put in a heat press to mold the depth of the cups. A molded cup will allow your bust to sit neatly into and be separated in the cups. A non-molded cup will tend to create more of a mono-boob, compressed look and feel.
The raw edges of the garment are then trimmed and bound, straps attached and hook and eye connected to create the bra.
What should I look for?
Seamless bras come in all sorts of shapes, sizes, colors and quality.
Look for a bra that feels supportive. The fabric should stretch but feel firm. The quality of the yarn will determine the strength & ultimately life of the bra.
1. The fabric should feel soft and luxurious on the skin
2. Typically a good seamless bra should have two layers of fabric for added support and lift
3. Molded cups for separation and depth
4. Supportive, wide side slings for shape and comfort
5. Comfortable, adjustable shoulder straps that do not dig in
6. At least four hooks and eyes for expansion
7. A wide back band for comfort and support
8. Be Non-wired
9. Supportive wide under band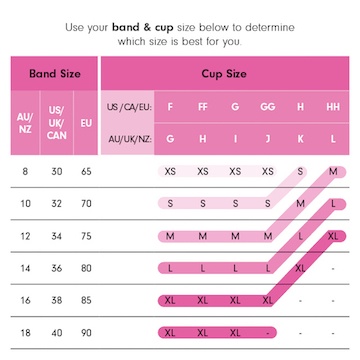 Sizing
Seamless bras come in easy sizing e.g. XS-XXL Brand sizing will vary depending on their designs, so it's important to check the size guide before purchasing your bra.
Design
Seamless bras come in a variety of different designs.
1. Regular Bra back
This is the most common type of bra style. It has a number of hooks and eyes at the back and can be easily adjusted should it need to be tighter or looser. The regular back is ideal for all bust sizes.
2. Racer back
This style pulls over your head. The Racer back will provide the wearer with greater support. This is due to the additional fabric on the back of the bra, helping to lift the chest. This style of bra is ideal for all bust sizes too, although larger busted women may find it difficult to pull the bra over their head and bust.
3. J-hook or Cross over back strap design
A J-hook or adjustable back is great for women looking for a little more support and lift or for those looking to have closer straps to suit their outerwear. These features can be found on some normal back seamless bras too. The J-hook is ideal for all bust sizes and provides versatility.
Not all seamless bras are created equal
It is easy to get allured to cheaper product.
As the saying goes, you get what you pay for! Cheaper product tends to use lighter density yarns, trims and materials, which ultimately determine the quality & life of the bra.
The bra could fit you fantastically for a short period but will probably rapidly deteriorate over time due to wear and washing. Also being made from a stretchy material it could loose shape and its effectiveness very quickly.
Care
Like all bras, seamless bras should also be looked after.
1. Ideally wash the garment in warm or cold water inside a laundry bag. This will help to avoid discoloration, fabric pulls and or too much shrinkage.
2. Wash lights with lights and darks with darks to avoid color transfer.
3. Hang to dry away from direct sunlight and avoid dryers as they will deteriorate the elasticity in the fabrics and could cause shrinkage.
4. Store flat or neatly folded in your draw after the garment is dry.
Rock Candy seamless nursing bra by Cake Maternity
Why should I own a seamless bra?
Seamless bras should not replace your existing wire or non-wire structured bras. We recommend that you continue to wear your structured cup size bras through the day, when you are out and about and at work.
Seamless bras are ideal for wearing when you just want to relax and chill out at home or wear to bed.
The soft luxurious nature of the bras will give you a gentle support without the use of an wire and are ideal for wearing under your PJ's and for sleep as well as around the home on a lazy weekend.
A good seamless bra will fast become your favorite go to bra!
If you haven't already tried one, seamless bras are the most comfortable, forgiving bras on the market & its worth the try.